About us
Reinventing what's possible
Press Room
Read Nubank's latest news and press releases on our blog.
Press Kit and Brand Style Guide
Here you can find our media assets, including images of products, brand and founders. Have fun!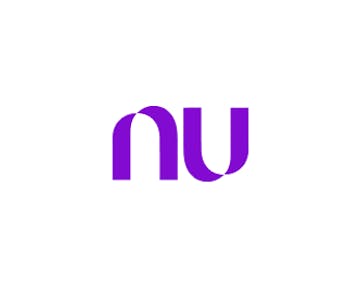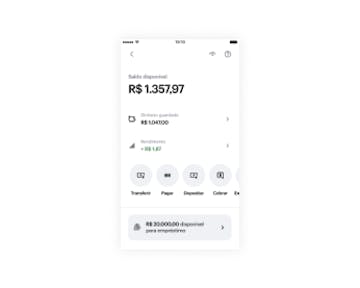 2013
2014
2015
2016
2016
2017
2018
2018
2019
2019
2020
2020
2021
2021
2021
2021
2021
2021
2022
March

After experiencing frustration with banking services in Brazil, David Vélez sets out to build a new financial services startup in Brazil and raises USD $2 million as seed investment from Sequoia Capital and Kaszek Ventures.

May

David Vélez partners with Cristina Junqueira and Edward Wible to co-found Nubank with the mission of fighting complexity to empower people.
April

Nubank starts testing its first product, a no-fee credit card that is fully managed by a digital app. After less than a year of development, the card is launched in Nubank's hallmark purple and the first transaction takes place.

September

Nubank credit card is released to the public.

In the same month, Nubank raises its Series A: USD $15 million - Investors: Sequoia Capital and Kaszek Ventures.
January

Nubank moves from a small "casinha" to a three-story office building at Brigadeiro Luís Antônio Avenue in São Paulo.

March

Nubank is voted the Most Innovative Company by Latam Founders.

May

Nubank raises its Series B: USD $30 million - Investors: Tiger Global, Sequoia Capital, Kaszek Ventures and QED.

December

Series C: USD $52 million - Investors: Founders Fund, Tiger Global, Sequoia Capital and Kaszek Ventures.

Nubank is voted the Most Innovative App by the App Store.
January

Nubank moves to an eight-story building in the Pinheiros neighborhood in São Paulo.

May

The company wins the Marketers That Matter Award from Sage Group, Silicon Valley and voted Best B2C Company by Latam Founders.


July

Nubank chosen by Interbrand for its Breakthrough Brands List
August


Voted one of the 

Best Companies to Work 

by Great Places to Work Brazil.

December


Nubank raises Series D: USD $80 million - Investors: DST Global, Sequoia Capital, Founders Fund and Tiger Global.
January

Voted Best Card by clients 

on

CVA Solutions research.

March

Named for second consecutive year the best B2C company by Latam Founders.


October

October

Nubank launches its second product, a fully digital savings 

account

.

December

Nubank opens a tech hub in Berlin, Germany.
March

Series E: USD $150 million - Investors: DST Global, QED Investors, Redpoint Ventures, Ribbit Capital, Dragoneer Investment Group, Thrive Capital.

With this funding round, Nubank becomes a Unicorn.

May

New app design release.

Nubank releases its first advertising campaign: "The New Always Comes".
June

Nubank rolls out its digital account to customers across Brazil. In the subsequent months, Nubank 

reaches

 100% of the country's municipalities, enabling still more people to access financial services.

September

Voted the Most Desired Company to Work For by LinkedIn Top Startups Award.

October

Raised USD $90 million through an investment by China's Tencent.

December

Debit function release for Nubank's digital account users.
February

New product launched: Nubank Personal Loan.

Voted Latin America's Most Innovative Company by Fast Company Magazine.

March

Voted Best Brazilian Bank by Forbes magazine.

May

Nubank begins executing  its international expansion plan with the launch of Nu Mexico.

Voted Brazilians' Preferred Credit Card in CardMonitor Survey.
July

Began testing a new product, digital accounts for small businesses and entrepreneurs. 

Nubank raises Series F: USD $400 million - Investors: TCV, Tencent, DST Global, Sequoia Capital, Dragoneer, Ribbit Capital and Thrive Capital.
January

Nubank completes  its first acquisition, the software consulting firm Plataformatec.

March

Nu Mexico  issues its first credit cards in the country.

April

Nubank enters the ranking of companies with the best reputations in Brazil and joins the list of the 100 businesses that most stood out for their corporate behavior, according to the Corporate Reputation Business Monitor (Merco).

June

Voted Best Brazilian Bank by Forbes magazine.
September

Nubank enters the investment sector with the acquisition of Easynvest, Brazil's leading digital investment platform.

Elected one of the Most Ethical Companies in Brazil by Virtuous Company, which takes into account criteria such as trust, empathy and freedom of speech.

Acquisition of Cognitect, the American company that created the programming language Clojure and Datomic. Cognitec is a leading company in the software engineering market.

Nubank launches operations in Colombia under the name Nu

October

Instant payment solution PIX is introduced in Brazil and 

Nubank 

reaches

 the 6 million mark of customers with registered Pix keys, leading the market.

December

Nubank wins, for the fourth consecutive year, the Época Negócios Reclame Aqui Award and takes the 1st place trophy in the  Digital Banks and Cards category.

Nubank launches Life Insurance offering.
January

Series G – USD $400 million. Investors: GIC, Whale Rock and Invesco. Nubank becomes one of the five most valuable financial institutions in Latin America.





February

Nu credit card released in Colombia.

Guaranteed Credit Card released, a gateway for those who want a Nubank credit card.

Voted one of Brazil's most loved brands  according to eCGlobal market research platform.
March

Nubank reaches 35MM customer mark.

Semente Preta is launched, a seed capital investment fund focused on supporting businesses founded or led by black people.

Voted one of 40 companies with the best reputation in Brazil in Corporate Reputation Business Monitor's (Merco) list.

April

Nubank joins TIME's 100 Most Influential Companies ranking.

Release of investment functionality within the app, with three funds in the testing phase.

Voted Best Financial Institution in Brazil for the 3rd consecutive year by Forbes magazine.

NuCommunity, our dedicated forum in which customers exchange ideas, ask questions and help each other out, reaches more than  270,000 users in only two years.
May


Nubank receives investment from Base10, a fund that supports companies that have a social impact.

Named to CNBC Disruptor 50 as one of the 50 companies that are transforming the economy and people's lives,and the only Latin American company on the prestigious 2021 list.

On its 8th anniversary, Nubank launches a new brand identity that reflects the evolution of the brand.
June

Nubank raises an extension to its Series G, amounting to a total of USD $1.15 billion. In this round, Nubank welcomes Berkshire Hathaway with an investment of USD $500 million as well as other renowned investors.

Nubank reaches 40 million customer mark.

Nubank ranked by Merco as one of the 100 best companies in Brazil.

July

Nubank launches Ultravioleta, a premium category credit card with an innovative design, made of metal and with exclusive benefits.

Nubank partners with Remessa Online, one of the main international transfer platforms in Brazil, allowing customers to make global transfers vía the Nubank app.

Launch of Nu Ultravioleta investment funds.


August

Following its acquisition, Easynvest is fully integrated and rebranded as NuInvest.

Focused on solutions for e-commerce, Nubank acquires Spin Pay, a digital payment platform.

Apple Pay is launched for millions of Nubank clients.

September

Nubank announces a strategic partnership with Creditas, to expand its partner's products to its customer base.

Nubank reaches milestone of 1MM clients  benefiting from its small business and entrepreneurs offering.
November


Nubank announces its intention to become a public company, as well as the NuSocios program, which would offer millions of customers the possibility to become the company's partners by receiving a BDR (Brazilian Depositary Receipt).


December

On December 10, 2021, Nu completed an initial public offering (IPO) , raising nearly $2.8 billion with its Class A ordinary shares beginning to trade on the NYSE, in the U.S., and BDRs on the B3 in Brazil (after the partial exercise of the underwriters' option to purchase additional shares on January 6, 2022).
January


Nubank acquires Olivia, a tech startup that uses AI (artificial intelligence) to help customers organize their finances and save money.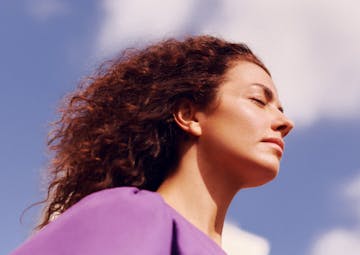 Today Nubank is one of the World's Largest Digital Banking Platforms with over 53.9 million customers in Brazil, Mexico and Colombia.
We have an NPS in the 90s and products that span the five financial seasons: Spending, Savings, Investing, Borrowing, Protecting.
We welcome on average 1.9 million new customers per month (average for Q4, 2021).
We believe we have saved customers $4.8 billion in bank fees and saved about 113M hours in wait time.
"Movido a capital de risco e uma plataforma de negócios digital, o Nubank lidera uma safra de unicórnios que já nasce com ambição global e capacidade de desafiar concorrentes tradicionais."
Época Negócios
"Nubank serves unbanked or underserviced citizens in Brazil — about 30% of the population — and this approach can be extremely profitable because there are many more clients available."
Tech Cruch
"Vélez e seus sócios — a brasileira Cristina Junqueira e o americano Edward Wible —reconhecem que a velocidade com que o Nubank deixou o papel e virou uma empresa avaliada em US$ 30 bilhões foi muito acima do que o imaginado no melhor dos sonhos."
O Globo
"Nubank, Latin America's largest fintech company, is helping millions jump barriers by offering a variety of financial services via its smartphone app"
TIME
"David Vélez set out to kill off the fat fees and lousy service of Brazil's big banks. The operation succeeded beyond his wildest dreams: Today, his no-fee Nubank is the most valuable digital bank in the world."
Forbes
"O presidente da Associação Brasileira de Fintechs (ABFintechs), Diego Perez, explica que o Nubank pretende usar o mesmo "encantamento" de experiência do usuário, marca da empresa para conquistar tantos clientes em tão pouco tempo, mas desta vez com as camadas mais altas."
Estadão
"Todo lo que tuvo que hacer Nu es darle al cliente su lugar, no un boleto de número en la fila."
El Financiero
"O público feminino vem aproveitando as facilidades que a fintech oferece em três dimensões: sentiu um aumento na autopercepção de controle financeiro pessoal; vê uma clara contribuição a sua independência financeira o acesso aos serviços; e, no caso das empreendedoras, quase metade das clientes pessoas jurídicas teve acesso pela primeira vez a serviços financeiros para seus negócios, o que vem contribuindo para seu crescimento."
Valor Investe
Our team
EMPLOYEES

+6.000 employees representing over 46 different nationalities. We attract top talent from around the world.

OFFICES

Argentina, Brazil, Mexico, Colombia, Germany and the US.

DIVERSE WORKFORCE

60% of employees self identify as belonging to underrepresented groups.