For those who want to see beyond.
Unique design, made of metal
Your achievements have weight. Inspired by this, Nubank Ultravioleta is made of metal. You'll feel the difference when you hold it.
Get 1% back on all your purchases in real-time. You decide how and when to use those earnings.
Your cashback, your rules.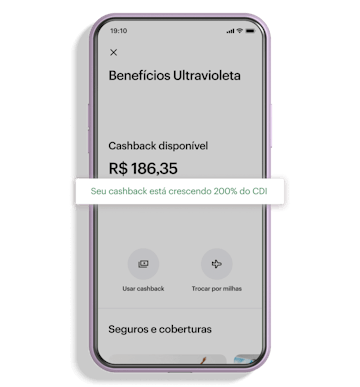 We turned expiring points into growing cashback
As long as you don't withdraw the cashback from your account, it keeps growing at 200% of the CDI.
The money is yours, and so is the control.
Send to your account
Withdraw your cashback. In seconds, the amount is available in your account.
Exchange it for miles
When traveling, convert your cashback into miles through Smiles.
Invest it
Invest in exclusive NuInvest funds.
Fewer numbers, more security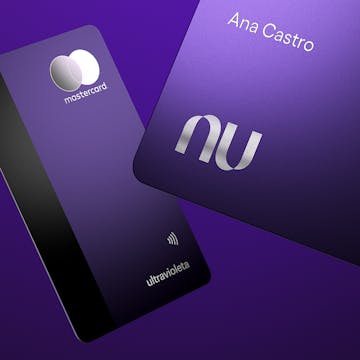 Your card only displays what matters: your name. Personal information such as number, security code, and expiration date can only be accessed by you from our app.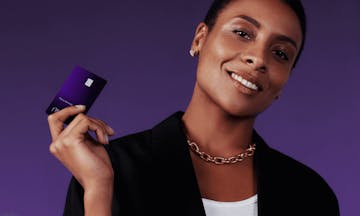 Nubank Ultravioleta Benefits
VIP lounge access
Unlimited, free access to the Mastercard Black VIP Lounge in Guarulhos. Other VIP Lounge Key rooms for $32/person each access.
Purchase protection
Protection against accidental damage, theft, or robbery for 90 days after product purchase.
Travel medical insurance
Free international health insurance whenever you buy tickets using your Ultraviolet.
Baggage insurance
Coverage in cases of lost or diverted luggage during your travels.
WiFi at any airport
Unlimited, free Wi-Fi at over 1 million spots around the planet.
Double warranty
Double the original warranty on the products you buy, free of charge.
How much does Nubank Ultravioleta cost?
Ultraviolet's monthly fee is
free

for you if:
If you spend, at least, R$ 5,000 monthly in your credit card; or You have at least R$150,000 saved or invested between Nubank and NuInvest.
You can also have your Ultravioleta for
R$49

per month.
Frequently asked questions
The Roxinho card remains the same: no annual fee, 100% digital, and with the humane and efficient service that only Nubank has. Nubank Ultravioleta, on the other hand, was designed for those who want to go further: made of metal, in addition to having benefits such as 1% instant cashback that never expires and automatically grows at 200% of the CDI, and all the Mastercard Black benefits, such as access to VIP Lounges, free Wifi at any airport, and different kinds of travel insurances. Nubank Ultravioleta has a monthly fee of R$ 49. If you spend at least R$5,000 monthly in your credit card or you have at least R$ 150,000 saved or invested between Nubank and NuInvest, this monthly fee will not be charged.

If you want access to the exclusive benefits offered to Nubank Ultravioleta customers, the first step is to subscribe to the waitlist. You will need to go through a credit analysis to be approved. We do not require proof of income.

We are releasing Nubank Ultravioleta gradually, but don't worry, as soon as the card is available for you to apply, we'll send you a notification, and the option to request a Nubank Ultravioleta will appear in your application. It's important to keep your app up to date and make sure notifications are enabled to ensure you don't miss any message from us.

See all topics