The premium card with cashback that increases 200% of the CDI, and all Mastercard Black benefits.
Ultraviolet. live your choices
Instant cashback that grows to 200% of the CDI
You get 1% back on all purchases made on credit. This value drops instantly and you can use it whenever and however you want.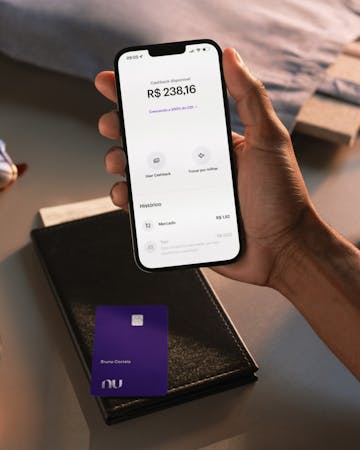 Here your cashback is real money
Use the money you get back however you want. And even better, at Ultravioleta your cashback never expires.
Make payments, pix, transfers, donations and more, redeeming cashback to your account.
Travel with Smiles miles converting R$1 to 33 miles, redeem in seconds and with no minimum limit.
Make your money work for you by investing in Nu Ultraviolet Funds.
Discover our cashback
Benefits for you to live all your choices
To explore the world
VIP Room MasterCard® Black in Terminal 3 of Guarulhos Airport.
Conversion of cashback to Smiles miles in real time.
Health insurance, car rental and luggage protection.
International transfer with discount on Remessa Online.
Coverage for travel inconvenience.
Benefits for you to live all your choices
To get out of the routine
Mastercard Benefits Surprise.
Priceless Restaurant Experience.
Free corkage fee when taking 1 bottle of wine at partner restaurants.
Extra cashback and discounts at the Nubank Shopping Mall.
Benefits for you to live all your choices
For a lighter day to day
Original extended warranty and protected purchases
Concierge service 24 hours a day.
Pix and scheduled payments with the Payment Wizard.
Multiple virtual cards for more security when shopping online.
A premium metal card that prioritizes your security
With a design made of metal, Ultravioleta has the weight of its achievements. More secure, the card only shows your name. The other data is accessed only by you, within our app.
More about security
All the advantages of a premium card, with the Nubank touch
All the benefits offered by MasterCard® Black
With Ultravioleta you enjoy experiences, insurance, offers and all the benefits of having a Black International card.
The best service in Brazil
Our service is humanized, award-winning, efficient and available 24 hours a day on your cell phone.
Free account with income greater than savings
Online payments and without bureaucracy. Any amount that remains in the account for more than 30 days has a yield of 100% of the CDI with daily redemption.
Make payments with the convenience of digital wallets
Ultravioleta is prepared to be used in digital wallets, such as Apple Pay, Google Pay, Samsung Pay and WhastApp Pay.
Monthly fee that adapts to your moment
Ultravioleta has a monthly fee of R$ 49, which is free according to your credit card purchases or your investments in Nubank or NuInvest.
Whenever monthly purchases in the credit function of your Ultravioleta card reach at least R$ 5 thousand, the monthly fee will be exempt.
Investing from BRL 50,000 between Nubank and NuInvest, Ultravioleta's monthly fee will be free.
Common questions
There is no minimum income rule for accessing Ultravioleta, but a credit analysis is carried out to make the card available. This analysis is carried out automatically when new customers register at Nubank, and also monthly for those who already have our roxinho card. As soon as the Ultravioleta card is released, the notice is sent via a message within the application and also by email. Hence the confirmation is super simple: everything directly through the app, fast and without bureaucracy.

It means that all the money you get back with the Ultravioleta card grows twice the value of the Interbank Deposit Certificate (CDI) per year, which evolves according to the Selic Rate. This growth happens automatically, in real time, and all evolution is done directly through your Nubank application, without complications. Having your cashback grow with Ultravioleta is a way to make your money work for you in a safe, profitable way and with daily liquidity so you can use it however and whenever you want: whether to create an emergency reserve, save for a future goal, or make payments.

With Nubank Ultravioleta you have free access to the Mastercard Black Lounge VIP room, located in Terminal 3 of Guarulhos International Airport, a terminal reserved only for international travel. Just present the physical Ultravioleta card at the entrance to the room to enjoy a space that offers snacks, alcoholic and non-alcoholic drinks, plugs and USB ports to recharge your cell phone, comfortable armchairs and access to Wi-Fi. The Nubank card Ultravioleta also gives you access to all VIP lounges in the Lounge Key network in more than a thousand airports around the world. But in this case, it is necessary to pay US$ 32 (US dollars) to enjoy the benefits of the VIP room.

Know more